Inquiry
Please contact us now !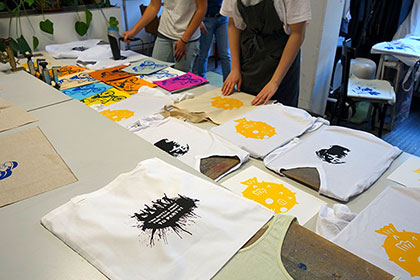 Universal type water resistant emulsion.
Textiles, Banners, T-shirts, Towels and water based inks.
Recommended for water borne paste used for electronic devices.
Good adhesion to screen mesh.
Faster exposure than normal Diazo type emulsion. Wider exposure latitude.
Recommended for printing with water based inks and pastes.
Easy to reclaim, extended re-use of screen mesh.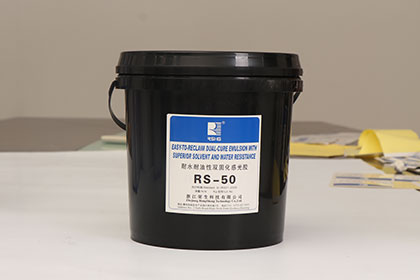 Viscosity: Approx. 3500 mPa・s, 25℃
Solid Contents: Approx. 38-40%
Packaging Standards: 1kg set, 5kgs set.
Contact us for custom packaging.
Screen mesh, Color
E.O.M (μm)
3Kw Metal Halide lamp
(UV42 Intensity: 12mW/cm²)
Polyester 31/cm (80/inch) w
5
85-95 sec.
Polyester 31/cm (80/inch) w
15
175-215 sec.
Polyester 59/cm (150/inch) w
5
50-65 sec.
Polyester 59/cm (150/inch) w
15
80-95 sec.
Polyester 100/cm (250/inch) w
15
80-95 sec.
※The above is for guideline purposes only, kindly to use a gray scale exposure calculator to identify optimal exposure time.
Solvent Resistance Rating
| | | | |
| --- | --- | --- | --- |
| Solvent | Rating | Solvent | Rating |
| Water | Excellent | Turpentine Oil | Fair |
| Conventional Solvents | Poor | Citrus based chemicals | Fair |
※24 hours swelling/absorption test results.
Wash, degrease and dry screen mesh. Remove grease and foreign contaminants with MSP cleanser.
Dissolve provided Diazo with 10% water to emulsion volume. Please do not use warm water.
Pour Diazo solution into emulsion. Mix it well. Prior to a use, let mixed emulsions settle for one day.
Or for immediate use, filter it with screen mesh 100/cm or higher.
Coat emulsion slowly in order to prevent air bubbles.
Dry coated screen completely at temperatures up to 40℃ (104℉) before exposure.
Keep the mixed emulsion in a cool and UV light safe area. Use mixed emulsion within 2 weeks.
Recommended to filter remaining emulsion with screen mesh before pouring it back into the container to remove any dust, foreign substances and air bubbles.